Jalepeno Stuffed Quail with Rosemary-Raspberry Demi Glace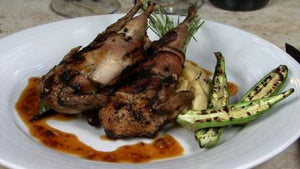 Nothing beats the taste of freshly grilled wild game. In this case, we came across an interesting variation of grilling quail. It just looks so good we had to post it. Don't forget the grilled okra! Yum!!
Ingredients:
Jalapeno Stuffed Quail
4 semi-boneless wild quail
2 fresh jalapenos, cut in halve lengthwise
4 strips applewood smoked bacon
kosher salt & freshly ground black pepper
¾ cup rosemary -raspberry demi glace, warm (see recipe)
Rosemary sprigs
1. Stuff each quail with a jalapeno halve and wrap with one slice of bacon. Secure bacon to the bird with a toothpick.
2. Prepare a grill with mesquite wood and bring to a medium high heat.
3. Season quail accordingly with salt and pepper.
4. Lightly oil the cooking grate on the grill and add quail.
5. Cook for about five minutes on each side, or until the juices from inside the quail run clear and the bacon begins to crisp up a bit.
6. Remove toothpicks from the quail and set on a serving platter.
7. Top with raspberry demi glace and garnish with rosemary sprigs.
Rosemary-Raspberry Demi Glace
1 tablespoon butter or salad oil
1 small shallot, minced
2 teaspoon fresh rosemary, minced
1/3 cup veal demi glace sauce
1/3 cup Fischer & Weiser Raspberry Chipotle Sauce
kosher salt and freshly ground black pepper
1. Heat a small sauce pan over medium heat and add butter, shallots and rosemary. Cook shallots lightly until they begin to turn translucent. Do not allow them to brown.
2. Stir in demi glace and raspberry sauce and heat through. Adjust seasoning accordingly with salt and pepper.
Serves 4 as an appetizer or 2 as an entree.
The original posting for this recipe was posted at: http://goodtaste.tv/recipe/jalapeno-stuffed-rosemary-garlic-marinated-grilled-quail/